Teaching Philosophy
My overall teaching goal is to sharpen my students' critical thinking while motivating them to become lifelong learners. I also encourage my students to speak their minds while dialoguing with key texts of Hispanic cultures. Starting from multiliteracies as a platform, they also learn to improve their intercultural skills and to communicate effectively in a challenging environment. I use teaching methodologies like the communicative approach, e-portfolios, and the inquiry-based learning approach to achieve these goals.
Teaching Experience
Colby College. Spanish Department
Visiting Assistant Professor
Dancing McOndo: Music and Literature from Latin America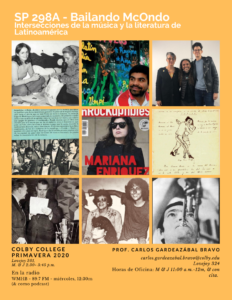 A journey to the diverse contemporary cultures of Latin America. Our objective is to track and analyze the diverse ways in which music (bolero, merengue, cumbia, tango, salsa, rock, hip hop) and literature have influenced each other. We reflect on the dialectical relationships between modernity and tradition, as well as the interactions between regional cultures and urban visions, global culture and traditional practices, subcultures and counterculture, high culture and popular culture, folklore and pop, race and social class. Students explore these issues while co-producing a podcast/ radio show, connecting with local Latinx communities.
[Sample video lesson from the online section of the course here.]
Conversation and Composition (Spring 2020)
Development of critical communication skills through conversation, and analysis of nonfiction texts as well as comparative, narrative, and descriptive writings. Introduction to the principles of composing a research paper. Continued work in vocabulary building and grammar review. Students write and present summaries of Spanish-language newspaper articles in small groups. Preparation for oral exams stresses team building as a basis for successful individual presentations. Topics include immigration, gun control, presidential elections, and the role of the university in preparing students for an ever-changing world.
Borders and Human Rights (Spring 2020. A course co-designed as a reading group)
Sponsored by the Oak Institute for Human Rights. Centered on the theme of Borders and Human Rights, we read a variety of books and articles. The facilitators are faculty from Anthropology, Government, History, English, Spanish, and Religious Studies.
Struggle, Memory, and Truth: Human Rights in Latin America
An overview of human rights literature and culture in Latin America. Exploration of literary works that reveal the contradictions and complexities stemming from human rights' discourse and their relation to different kinds of violence (structural, gender-based, slow). Students will study how writers, filmmakers, and artists examine criticisms of the logic of human rights and the humanitarian, hierarchical, or therapeutic view it contains. By reading genres like testimony, post-conflict, and post-dictatorship literature we will examine the importance of the cultural representation of human rights violations as part of the different processes of mourning, justice, and historical memory, while we reflect on the limits of literary language regarding the representation of certain types of violence.
Intermediate Spanish I  (Fall 2019)
Through an intensive grammar review, students develop skills for independent and creative interactive communication. Designed to refine students' major skills in listening, speaking, reading, and writing, as well as to provide insight into the literature and culture of Spanish-speaking countries.
Loyola University Maryland, Baltimore. Department of Modern Languages and Literatures
Visiting Assistant Professor
Intermediate Spanish I (Fall 2018, Spring 2019)
A systematic consolidation and expansion of the students' acquired abilities/proficiencies in the language to broaden their understanding of the Hispanic culture and literature.
Intermediate Spanish II (Fall 2018, Spring 2019)
This capstone course reviews and reinforces language skills learned in previous courses to help students attain the intermediate level as defined by ACTFL. It includes heavy use of language in context, with discussion in Spanish of literary readings, films, and news from the Hispanic world.
University of Connecticut, Hartford.
Instructor 
Basic Spanish I, II. (Fall 2016, Spring 2017)
Development of basic communication and cultural skills in Spanish adapted for nontraditional students in a highly diverse academic environment.
University of Connecticut, Storrs.
Literatures, Cultures and Languages Department.
Instructor of Record
Film in Spain and Latin America (Online course, Fall 2017, Spring 2018, with professor Jacqueline Loss)
Film language and genre in Spanish and Latin American cinema.
Courses Designed and Taught
Spanish Conversation – Cultural topics: Derechos humanos en el cine y la música (Spring 2015, 2016)
From the analysis of films, songs, archive documents, and cultural readings on human rights issues in the Spanish-speaking world, students obtained an in-depth development of their speaking skills through group discussions, podcasts, videos, and oral presentations.
Cultura española. Study Abroad Program in Granada (Fall 2015)
Using an experiential learning approach, students gained a first-hand contact with the diversity in the Spanish culture, both past and present, through on-site activities, lectures, and cultural trips in which they explored history, politics, art, religion, and cuisine from different regions of the country.
Courses Taught 
Intermediate Spanish I and II (Spring 2013. Summer 2016)
Further development of understanding, speaking, reading, and writing skills within a cultural setting. Readings to enhance cultural awareness of the Spanish-speaking world.
Spanish Advanced Composition (Fall 2014)
A W course. Exercises in translation and free composition. Stylistic analysis of texts chosen from Spanish or Latin American authors, newspapers, and magazines. Treatment of the finer points of Spanish grammar.
Spanish Basic Composition (Fall 2014)
A thorough review of grammar and methodical practice in composition leading to command of practical structures and vocabulary.
Basic Spanish II (Fall 2012; Online course in summer 2017).
Development of ability to communicate in Spanish, orally and in writing, to satisfy basic survival needs within a cultural setting.
Teaching Assistant
Sections in large lecture courses
Greek Mythology (Online course. Fall 2013, Fall 2017, Spring 2018)
Roman Civilization (Spring 2014)
Academic Administrative Positions
Resident Director. UConn Study Abroad Program in Granada, Spain. (Fall 2015)