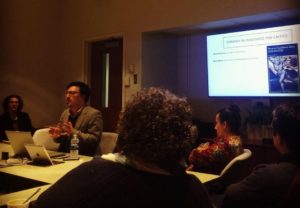 I co-founded and was the co-editor in chief of UConn's first open access academic journal, The Quiet Corner Interdisciplinary Journal. I was the president of LANGSA, the Languages Graduate Student Association, during the 2016-2017 academic year.
Professional activities
Resident Director. UConn Study Abroad Program in Granada, Spain. (Fall 2015)
President. LANGSA (Languages Graduate Student Organization) Fall 2016-Spring 2017. Events co-organized with the LANGSA team:
7th LANGSA conference: Migration and Displacement in Literatures Languages and Cultures. University of Connecticut, Storrs. Dodd Center, November 11, 2016.
Workshop on translation and the job market. Presenters: Peter Constantine, Jacqueline Loss, and Charles LeBel. UConn, Storrs.  April 13, 2017.
Creative reading and talk by Carmen Francesca Banciu: "Language Play: Transformation through Writing and Creativity." UConn, September 22, 2016.
Co-editor in Chief & Co-founder. The Quiet Corner Interdisciplinary Journal. October 2014 – May 2017. TQC is an open access journal that publishes works in the humanities, arts, and social sciences written by graduate students. I planned the scope of each issue with our team of editors and oversee the work of the reviewers.
Reviewer.
Journals:
Literatura: teoría, historia, crítica. Universidad Nacional de Colombia.
Cuadernos de música, artes visuales y artes escénicas. Pontificia Universidad Javeriana.
Books:
Editorial Universidad Jorge Tadeo Lozano.
Chair.
Panel: Human Rights and Crisis in Literature and Visual Culture. May 28PP, 2015. LASA 2015, San Juan, Puerto Rico.
Co-Chair.
Panel: Nuevas perspectivas sobre la violencia en la cultura colombiana. KFLC. Lexington, KY. April 19-21, 2018.
Seminar: Topographies of Narrative Empathy: The Social and the Cognitive. March 28 – April 1. ACLA 2018. UCLA, Los Angeles, California.
Seminar: Human Rights Narratives in Latin America: Memory and Citizenship. March 20, 2016. NeMLA 2016. Hartford, Connecticut.
Round Table: The Struggle for Recognition: The Hispano-American Novel in the 21st Century. May 2, 2015. NeMLA 2015. Toronto, Canada.
Seminar: Postcolonialism and Ecocriticism. April 6, 2014. NeMLA 2014. Harrisburg, Pennsylvania.
Moderator.
LANGSA Conference, Open Humanities. Panel: Education in Between. February 23, 2013.
Organizer. "Grant Writing in the Humanities: A Workshop." University of Connecticut, Literatures, Cultures and Languages Department. April 21, 2015.
Student Representative and Social Media Coordinator. LASA Sección Colombia. May 2016-present.
Facilitator.
Universitas 21 Summer School: Human Rights. University of Connecticut, Human Rights Institute. July 7-19, 2013.
Radio. I have produced two shows on Latin American music and cultures: "Radio ciudad perdida," aired at WHUS, and "Centro-Sur" which airs at WRFL