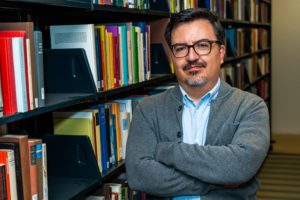 My research and teaching interests intersect contemporary Latin American literature and film, the cultural politics of emotion, human rights narratives, ecocriticism, and critical theory. An example of such intersections is the volume Human Rights in Colombian Literature and Cultural Production: Embodied Enactments (Routledge 2022), which I co-edited with Kevin Guerrieri.
I am currently Assistant Professor of Spanish at the University of Dayton's Department of Global Languages and Cultures, where I also collaborate in the Latinx and Latin American Studies program. My teaching experience at the college level encompasses courses on Latin American culture and Spanish at all levels of instruction at Rhodes College, Colby College, Loyola University Maryland, and UConn, as well as humanities classes in different universities in my home country.
I received my Ph.D. in Spanish studies with a specialization in Latin American Literature and a Graduate Certificate in Human Rights from the University of Connecticut (2018). I earned an MA in Hispanic Linguistics from the Instituto Caro y Cuervo and a BA in philosophy from the Universidad Nacional de Colombia. 
Among my last collaborative projects is Colombia Syllabus/Primera línea académica, a crowdsourced digital repository. Co-edited by scholars and activists from different countries, it collects material on the human rights crisis derived from the state's response to the 2021 protests and its ideological roots.
My radio shows "Bailando McOndo" (co-produced as a podcast with my students), "Radio ciudad perdida," and "Rutas Centro-Sur", on Latin American & Latinx music and culture, aired at WMBH Waterville, WHUS Storrs, Radiolex, and WRFL Lexington.
On this website, you will find information about my teaching experience, my past and current research, service engagements, and my public scholarship. 
If you are interested in collaborations on any of these research or teaching topics, please feel free to contact me.